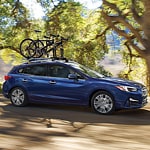 Subaru lovers are thrilled about the all-new 2020 Subaru Impreza. This popular compact car comes either as a 5-door hatchback or a typical sedan. With more new features than ever before, the Subaru Impreza is sure to have something for everyone.
Compared to other similar vehicles, the 2020 Impreza has a superior amount of passenger room inside the cabin. The Impreza comes in a variety of colors from Lithium Red Pearl to Ocean Blue Pearl, and many more. And since it is the longest-lasting vehicle in its' class, you know the 2020 Impreza is engineered to survive.
Not only is the Subaru Impreza built tough, but it comes with a surprising number of technology and safety features. Most notably, a rear-camera is built-in to help you safely move in reverse. If you would like to take a 2020 Subaru Impreza for a test-drive, stop by our dealership in Walnut Creek, CA today, and ask to take a test drive.