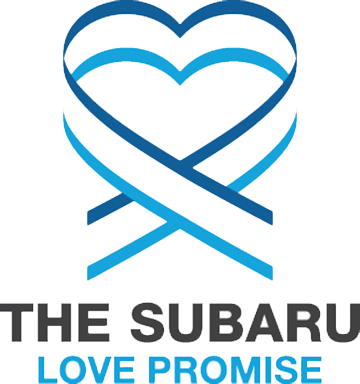 What is the Subaru Love Promise?
Subaru and our retailers believe in making the world a better place and the Subaru Love Promise is our vision of respecting all people. This is our commitment to show love and respect to our customers and to work to make a positive impact in the world.
How is Diablo Subaru of Walnut Creek dedicated locally to the Love Promise?
Our Love Promise can be seen in various partnerships with local charities and non-profits. We're grateful for the opportunity, not only to be a part of our community, but to serve it as well.
Tony La Russa's Animal Rescue Foundation (ARF)
Hope Academy for Dyslexics
Food Bank of Contra Costa and Solano
Love Promise Stories from Diablo Subaru of Walnut Creek
Subaru and Diablo Subaru of Walnut Creek believe in making a positive impact on the communities in which we live and work. We uphold that belief through our Love Promise Community Commitment. Every month, we select inspiring stories from customers and partners from around our area who strive to support our collective commitment and feature them here
UNBELIEVABLE SERVICE❣️ - TRACEY L
I have seen many commercials about the Subaru love promise and thought it was just a cute slogan…until I inherited a 2016 Subaru Outback from a friend. My friend was diagnosed with dementia and has no family to take care of her. A year later, my husband was diagnosed with Lymphoma and had to undergo a series of Chemotherapy treatments, making me the primary caretaker for my husband and friend. This, of course, is both stressful and challenging. Sometimes life challenges us for reasons we don't understand. After my friend lost her license, she asked that I use her Subaru to run errands with her and take my husband to get his chemo treatments. One of the first things I noticed about the Subaru is that it needed some work and repairs, which I was not sure who could help with this. Being I never owned a Subaru before, I sought the help of my friendI, Ray, an employee of Subaru, and asked him if he could guide me on who would he recommend for Subaru repairs. What a surprise when Ray called back and arranged for Diablo Subaru of Walnut Creek to assist us. Diablo Sub picked up the car from our house, made the repairs at no cost and then told us it was their way of helping us in a time of challenge! I was actually brought to tears that a company would go so far to help someone unconditionally and make their life a little easier. The care, concern and customer service made me realize that Subaru's love promise is not a slogan but a way of doing business! We have been receiving many blessings lately & for Diablo Subaru to be one of them is unbelievable. I am now the owner of a great car and company who truly goes the extra mile to help their customers, something I have never seen from any car manufacturer. Needless to say, I now understand Subaru's "Love Promise" and would give Diablo Subaru a 10 out of 10 from start to finish! Thank you for making a difference and showing me what the love promise is about!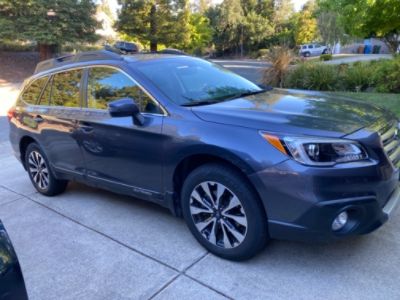 ---
Underdog Westin Finds Perfection - Erin T
Subaru continues to wear their heart on their sleeve when it comes to the well-being of animals, especially for underdogs like Westin. Westin is a brave Border Collie mix who was rescued by local animal care officers from a traumatic situation and made his way to Tony La Russa's Animal Rescue Foundation (ARF). He was found on a rural property entwined in wire with his brother – they had been tied to a pole and forgotten. Westin's brother only sustained minor injuries, however one of Westin's legs was entangled in the wire so badly that it cut-off circulation. His leg had endured irretrievable damage. The local animal shelter preformed emergency surgery to liberate his nonfunctioning leg that hindered his walking abilities. In spite of only having three legs, Westin wanted to be part of a pack and grow their hearts by giving someone their unconditional love. As destiny would have it, he was transferred to Tony La Russa's Animal Rescue Foundation (ARF) where his adoptive parents, Emily and Ryan, and fur brother, Louie, would make their grand appearance! "We knew that we wanted to be a two dog home. The question was, where do we find the right dog? What does the right dog look like? Do we get another puppy or an older dog? When is the right time? So. Many. Questions," explains Emily. "I had been casually browsing a couple of different rescue organizations. A coworker of mine had just adopted from ARF, so I took a peek at the adoptable dogs posted on the website. That's where I saw sweet Westin. His little ears sticking out sideways just a little and that sweet little face had me hooked. The fact that he is a tripod was icing on the cake." Finally, Westin's day came to fruition! Westin and his new family felt an instant connection after their first play date. Regardless of his missing leg, Westin immediately wanted to wrestle, jump, and play with Louie. "It took us all of 10 minutes to know that we wanted Westin to come home with us," says Ryan. Thanks to Subaru's National Make a Dog's Day and Subaru Loves Pets campaign, Tony La Russa's Animal Rescue Foundation is able to provide animals like Westin with a second chance. Despite his rough start, Emily and Ryan know Westin's "underdog" status makes him easier to love.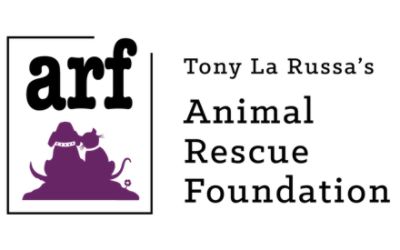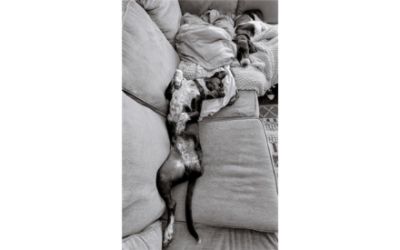 ---
Thanks for Sharing the Love this Holiday Season - Meals on Wheels Diablo Region M
Meals on Wheels Diablo Region would like to thank Diablo Subaru of Walnut Creek and Subaru of America for sharing the love once again this holiday season! #SharetheLove
---
Diablo Subaru of Walnut Creek - A True Neighbor - Rachel H
Diablo Subaru of Walnut Creek does more than sell and service cars. In addition to fostering economic development in our community, they inspire togetherness and hospitality throughout the Diablo region. During the Christmas holidays, Meals on Wheels Diablo Region participated in Subaru's Share the Love Campaign -- Diablo Subaru's generous donation will help MOWDR deliver meals to vulnerable seniors. They are the true definition of a good neighbor!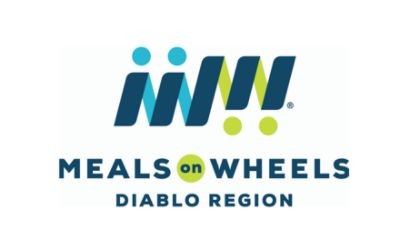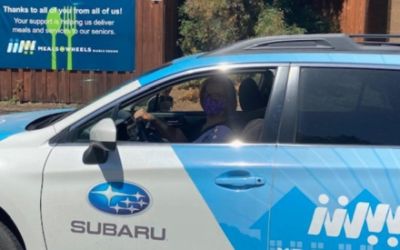 ---
MOWDR Continues to Serve Seniors - Lauren G
In these uncertain times, the seniors we serve rely on us more now than before. The coronavirus pandemic has brought unprecedented challenges, fear, and uncertainty to everyone. For isolated seniors it has compounded issues they face on a daily basis – loneliness, anxiety and health risks. More mobile seniors have been forced to shelter in place for their own safety—left to wonder how they will get basic supplies. Along with an army of dedicated volunteers and new, temporary delivery protocols we have continued to bring isolated seniors nutritious meals and basic necessities to sustain them and keep them healthy. Through it, all our trusty super Subaru has been there—at the frontlines—making deliveries and acting as a safety ambassador to remind everyone to wear their masks. In the face of the coronavirus pandemic, a team of champions has risen up to guarantee that the comfort and care of our elderly clients continue with minimal disruption. This virus will not defeat us and we will come out of this stronger and more committed.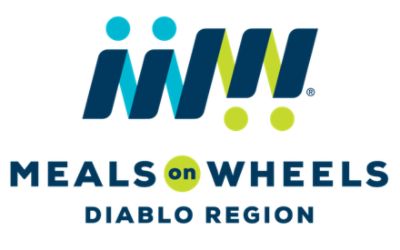 ---
MOWDR Keeps Seniors Safe When the Power Goes Out - Lauren G
Power outages happen during storms, and have become increasingly common here in Northern California as result of wildfires. Home bound seniors find themselves particularly vulnerable when they aren't able to store and prepare food or have access to potable water. Having an emergency kit that includes food and water supplies for at least three days is vital for those who are frail or isolated. Meals on Wheels Diablo Region (MOWDR) in partnership with Meals on Wheels Contra Costa provide over 1,000 seniors with emergency packs (e-packs) every year. The e-packs contain enough non-perishable food items for six meals. Multiple packs are delivered to homes with more than one senior occupant. MOWDR client Si S. was very grateful to receive his annual e-pack from MOW Client Support Associate, Sabrina and MOWDR Volunteer, Kerri who drove up to his house in the MOWDR Subaru. "I haven't needed to use these yet, but I know I'll be okay if the power goes out for a couple of days!" Just like Subaru's commitment to protecting drivers and the ones they love; MOWDR works tirelessly to make sure that seniors like Si are safe and sound, year-round—even when the power goes out!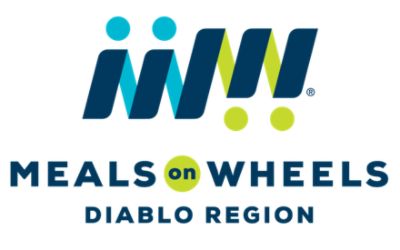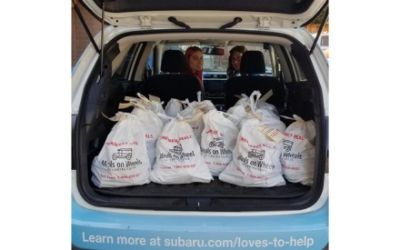 ---
John Muir Medical Center Visit - Alexa A
On Monday, July 29, Leukemia & Lymphoma Society staff members Greg Bedard and Lauren Echsner joined six nurses, including Renata Lorenzo, to begin the distribution of blankets to patients suffering from blood cancer at John Muir Medical Center in Walnut Creek, California. Dozens of blankets were made available for patients by Diablo Subaru of Walnut Creek, which has partnered with LLS and its East Bay Light The Night campaign as part of the Subaru "loves to care" program.Nurses escorted LLS staff around the oncology wing of the hospital and shared some of their experiences working at one of the leading hospitals in the Bay Area. John Muir will make the stylish blue and white blankets available to patients as needed during the summer and fall.East Bay Light The Night is held annually in Walnut Creek at Civic Park. This year's event will commence on the evening of Saturday, October 12, with registration at 5:00 p.m. and the event ceremony, including "Circle of Survivors", beginning at 7:00 p.m. Approximately 2,500 members of the East Bay community will show their support for those who have struggled with blood cancer, culminating in a walk with lanterns around downtown Walnut Creek.For more information about the walk, please go to: https://www.lightthenight.org/events/east-bay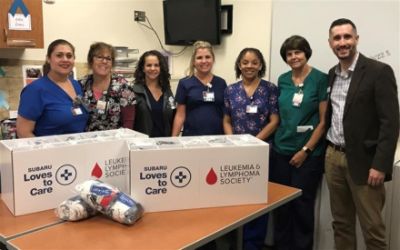 ---
Delivering Smiles - Maricel K
This month, Meals on Wheels Diablo Region's Subaru made a special visit to a pair of friends that are part of the organization's Friendly Visitor program. At 103 years old, most of Helen's remaining family lives outside of California, and being confined to a wheelchair makes it very difficult for her to leave the board and care home where she lives in Concord. Helen's son, Larry, in an effort to keep her active and engaged when he was unable to be with her, started looking into companionship programs. Enter Sterling. Earlier this year, Sterling reached out to MOWDR about volunteering. When he heard about the Friendly Visitors Program, he remembers thinking, "Sign me up!" He further recalls, "I had a list of six people, and I could choose who I wanted to visit. Helen was on the list and it was magic. I didn't know anything about her or anybody on the list, I just thought someone who is 103 has got to be pretty special. This lady has a brilliant wit!" Helen's son, Larry, is grateful to both Sterling and MOWDR's Friendly Visitors Program. "It's fantastic because it's been pretty much only me visiting. Having Sterling come has been great! I know Meals on Wheels, and I thought that's all you did. This is a fantastic program." When asked what she thinks about Sterling and their visits, Helen gets right to the point with the wisdom that comes with 103 years. "They bring back memories and it's nice having someone to talk to." We are excited to help deliver more smiles as part of our Friendly Visitors program with the help of our Subaru Outback. To learn more about volunteering for the Friendly Visitors Program, visit www.mowdiabloregion.org/visit-senior or call 925.954.8736.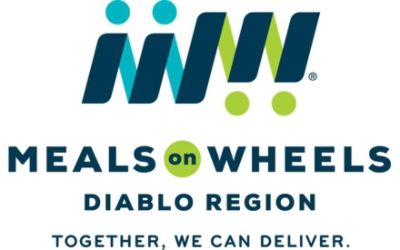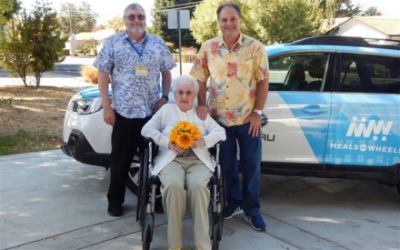 ---
LLS & Subaru's Hospital Blanket Delivery - Megan M
On June 25th, the Leukemia & Lymphoma Society's (LLS) Greater Bay Area Chapter teamed up with Diablo Subaru of Walnut Creek to deliver blankets and arts & crafts kits, and message of hope cards written by caring Diablo Subaru of Walnut Creek customers to John Muir Medical Center. Once we arrived at John Muir, we were able to take a tour of their incredible facilities and see first hand the great work they are doing with local patients. This is a wonderful partnership, year after year, and it is such a joy to work with Subaru to spread love, hope, and warmth to people fighting cancer. Thank you to Diablo Subaru of Walnut Creek for making a difference!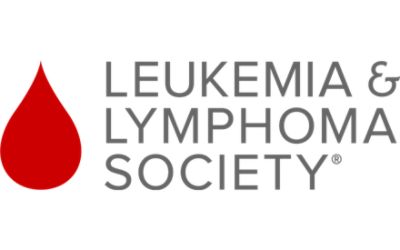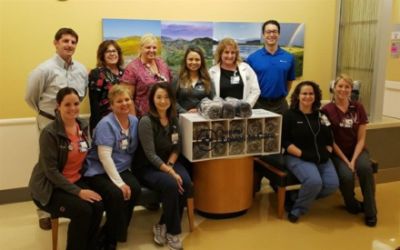 ---
Celebrating 50 Years - Maricel K
Meals on Wheels Diablo Region (MOWDR) celebrated their 50th Anniversary in May with a Gala at Blackhawk Museums in Danville, CA. The event highlighted the organization's accomplishments as well as their rebranding efforts and hopes for the future. One of the achievements recognized during the Gala was the award of a 2018 Outback as part of Subaru's 50 Cars for 50 Years program. The Meals on Wheels branded Subaru was prominently displayed at the museum's grand front entrance to greet guests as they arrived at the Gala. As part of the event's program, David Frick, Zone Retailer Marketing Manager of Subaru of America, Inc., took to the stage to share a few highlights of our partnership, including the impact the 50 Cars for 50 Years program is making across the country by helping Meals on Wheels organizations serve an additional 53,000 meals to 3,700 people and counting. The event was a huge success for MOWDR and an excellent platform to propel our partnership forward. The Gala raised over $200,000 and will help MOWDR continue to provide life-saving services to older adults in Contra Costa County. MOWDR looks forward to an even stronger partnership with Subaru Inc. in the next 50 years to come!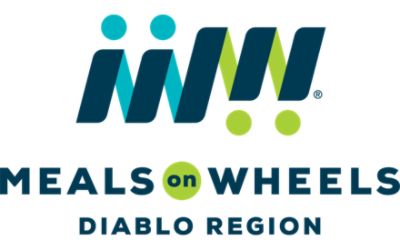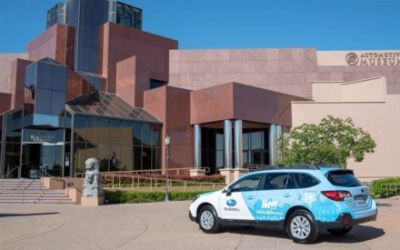 ---