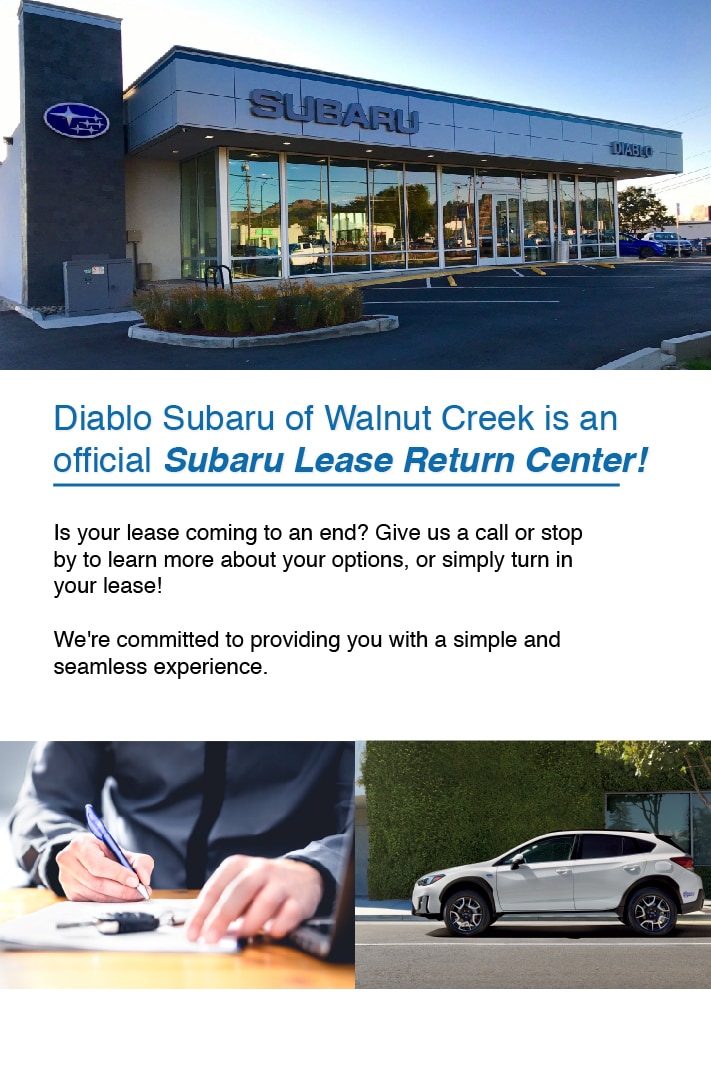 The Subaru Lease Return Center at Diablo Subaru of Walnut Creek
Is Your Subaru Lease Ending? We Are Here to Help
The end of your Subaru lease can bring forth a mix of emotions. On one hand, it is exciting that you could be in the market for a new vehicle, but, at the same time, maybe it is difficult to say goodbye to your current car or you have anxiety over the end-of-lease process. Whatever you are feeling, the team at Diablo Subaru of Walnut Creek is here to help. We can guide you through your end-of-lease options and the process of ending your Subaru lease successfully.
Your Lease-End Options
Even if you didn't lease your Subaru car, hatchback, or SUV at our dealership, you can conduct your end-of-lease business with us. When you are ending your lease, you will have three options to consider:
Buy the Vehicle You Are Currently Leasing - The finance center at Diablo Subaru of Walnut Creek can help you in finding an auto financing option that allows you to finance the current Subaru vehicle you are driving. This is a great option for drivers who can't imagine driving anything else.
Buy or Lease a New Subaru - Have you been itching for the latest features and technology in a new Subaru? One of your lease-end options is the chance to buy or lease a new Subaru. Our talented sales consultants can answer all your questions about the new Subaru vehicles on our lot and the finance team can find you an auto loan or Subaru lease that works for you.
Do Something Completely Different - Drivers also have the option of just turning in their leased vehicle at our dealership.
Turning in Your Leased Subaru Vehicle
Whether you are buying or leasing a new Subaru vehicle, or just turning in the keys, you'll need to take care of a few things before you can successfully complete your Subaru lease:
Schedule a Pre-Inspection Process - About 45 days before the end of your lease, you can schedule a complimentary pre-inspection that will examine your vehicle for any potential excess wear-and-tear issues.
Set up a Time to Return Your Vehicle to Diablo Subaru of Walnut Creek
Remove Any Personal Items in the Vehicle Before Returning It, Make Sure Everything That Came with the Vehicle is in the Vehicle, and Bring Both Sets of Keys
Contact Your Lease Company One Day After Turning in Your Subaru Vehicle to Notify Them You Did So
If you have any questions about returning your leased Subaru vehicle, or you want to discuss any of your end-of-lease options, contact a sales consultant at Diablo Subaru of Walnut Creek to get all the information you need.
Hours
Monday

08:30am - 08:00pm

Tuesday

08:30am - 08:00pm

Wednesday

08:30am - 08:00pm

Thursday

08:30am - 08:00pm

Friday

08:30am - 08:00pm

Saturday

09:00am - 07:00pm

Sunday

10:00am - 06:00pm
Schedule Lease Return
* Indicates a required field